Wrexham v Dover Athletic KO 3pm Vanarama National League Live Match Thread -

---
One of our 'cup final' games today as we chase the playoffs!
Mills quote:
"It is preferable to play the teams around us, our two home games left are Dover and Braintree. We don't need to hope on other results, it's in our own hands. We are relishing the opportunity."
Nice day outside for footy, and quite warm... so ought to see a decent crowd!
As usual there will be audio coverage via Wrexham Player and BBC Wales - Links for the BBC online audio usually appear a few minutes before kick off so check back then.
Please feel free to interact and give your views & opinions live in this match thread, or if you think something important has been missed please post. Those there or listening please post updates of the play for those who cannot...!
#COYR
---
Information to create a Standing Order
'Our preferred method of paying your membership fee is by standing order, which you can set up using the details below through online banking, or by filling in an S/O form at your bank.
Co-Operative bank PLC
Sort Code:08-92-99
Account Number:65084582
Please use your WREXID as the payment reference, or if you are joining for the first time, then please use your date of birth as the payment reference.
You will need to pay a minimum £1 per month, although we are asking members if they would please consider raising this amount to £1 per week, to help give us some breathing space when we finally take over the running of the Racecourse. It would be greatly appreciated!
Once you have done this, then please send an e-mail to
membership@wst.org.uk
and
treasurer@wst.org.uk
with your details.'
Very easy to do and takes just a couple of minutes via your own online bank
COYR
---
Any team news??

Sent from my T1-A21L using Tapatalk



---
Wxm: Taylor, Vidal, Smith, Fyfield, Newton, Evans, Heslop, Carrington, York, Beck, Jackson. Subs: O'Reilly, Fowler, Moke, Briscoe, Gray.



---
Wxm: Taylor, Vidal, Smith, Fyfield, Newton, Evans, Heslop, Carrington, York, Beck, Jackson. Subs: O'Reilly, Fowler, Moke, Briscoe, Gray.



---
Back to a back four.

433 or 442 with York and Vidal out wide??



---
Beck? Lol



---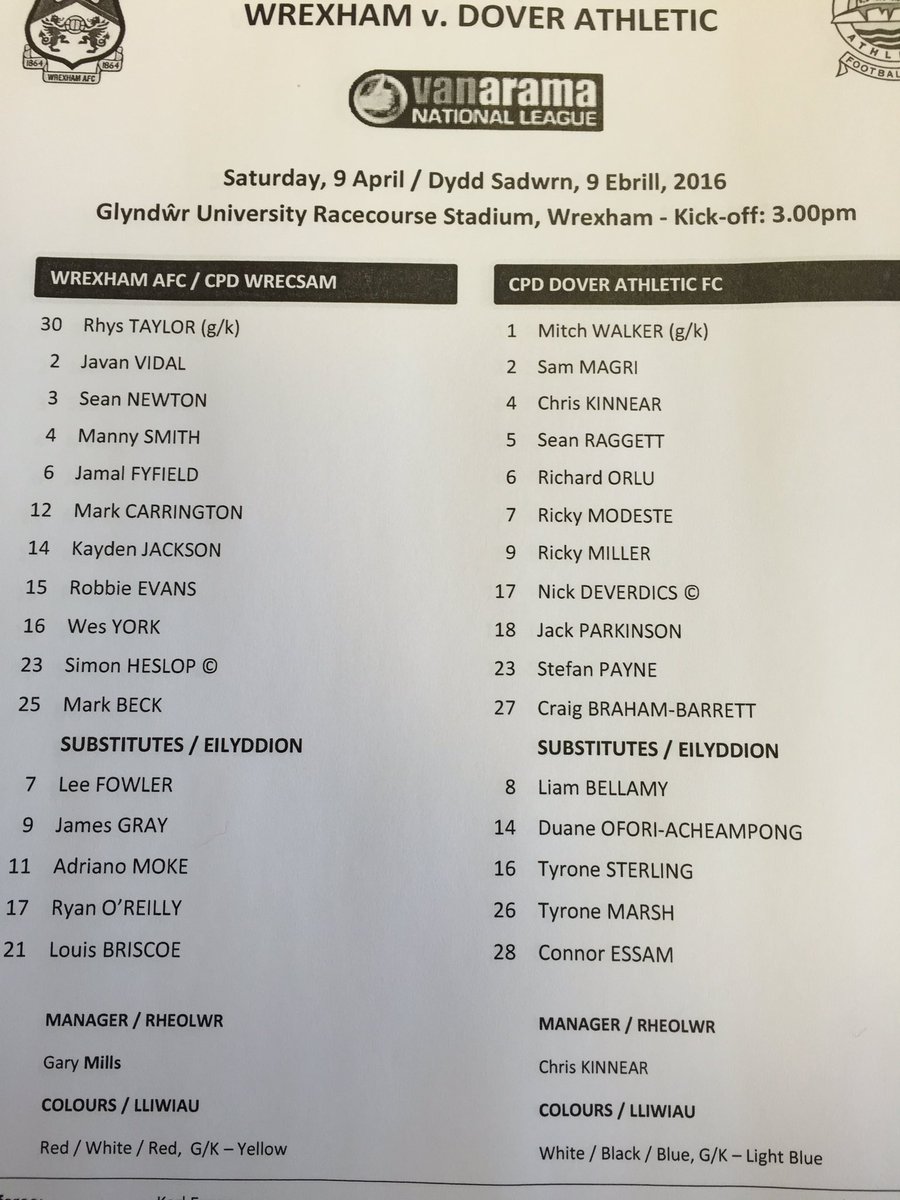 ---
Really not happy with that line up! I hope beck is showing something in training, gray fowler and Moke all sitting on bench! Prove me wrong please



---
Hmm some reservations about the team selection hope they prove me wrong. Midfield is very light and would rather gray was up front than Beck. Did moan about york coming on against Cheltenham so beck will probably get a hat trick 😄. Come on Wrexham
Posted via mobile theme



---


Wrexham v Dover Athletic KO 3pm Vanarama National League Live Match Thread

Please help out your fellow RP'ers by being restrained on the use of 'refresh' during games! Lots of 'guests' view the RP match threads, so if that is you, please consider registering and joining in the RP fun!


Complaint? Please use the report post tools or contact RP to bring a post, user or thread to the attention of a site 'admin' or 'mod'.

Select Version: PC View | Mobile RP



SEO by vBSEO 3.3.0 ©2009, Crawlability, Inc.