Boreham Wood Vs Wrexham KO 3pm Vanarama National League Live Match Thread -

---
Today we are down in the British Hollywood, or the heart of Avengerland if you prefer!
Preview from The Wood includes: "
Garry Mills brings his Wrexham side to Meadow Park on the back of a goalless draw against neighbours Chester. It hasnít been the greatest of starts for the Welsh side, who had aspirations at the beginning of the season of challenging for the National League title. As it stands Wrexham sit in 14th, and have an undefeated home record although away from home they have won one, Drew one and lost three.

Dave Stephens is the gaffers only long term absentee, following the injury sustained on the opening day of the season. Garrard should have Jamie Lucas, Morgan Ferrier and Ricky Shakes back in contention.

Luke Garrard will be looking to continue the sides fine start to the season adding to the 18 points accumulated from 12 games. Just eight from a possible eighteen points have come at home a stat the players will be looking to address.

Adriano Moke is a player that will be well known to the Wrexham fans having played for them for the past couple of seasons.
"
Also found this gem on their website about a
tea urn put in a urinal
. Tin pot or tea pot?
As usual audio links will be popped up - probably Radio Wales, Official Club Player and BBC Darn Sarf.
Please be respectful to fellow fans, and post updates on the game for those who cannot listen!
COYR!
---
Horrific weather down in Sussex at present: flash floods a possibility in parts. Not sure if the same is occurring in the rest of the Home Counties though



---
Is anyone in Borehamwood yet who can let us know what the weather is like?



---
Official account saying 'wet but sun trying to shine through' but appears game is on.
This is a good idea, wonder if A frames around town could help?
I know some Councillors dont like a-frames but ought to be doable?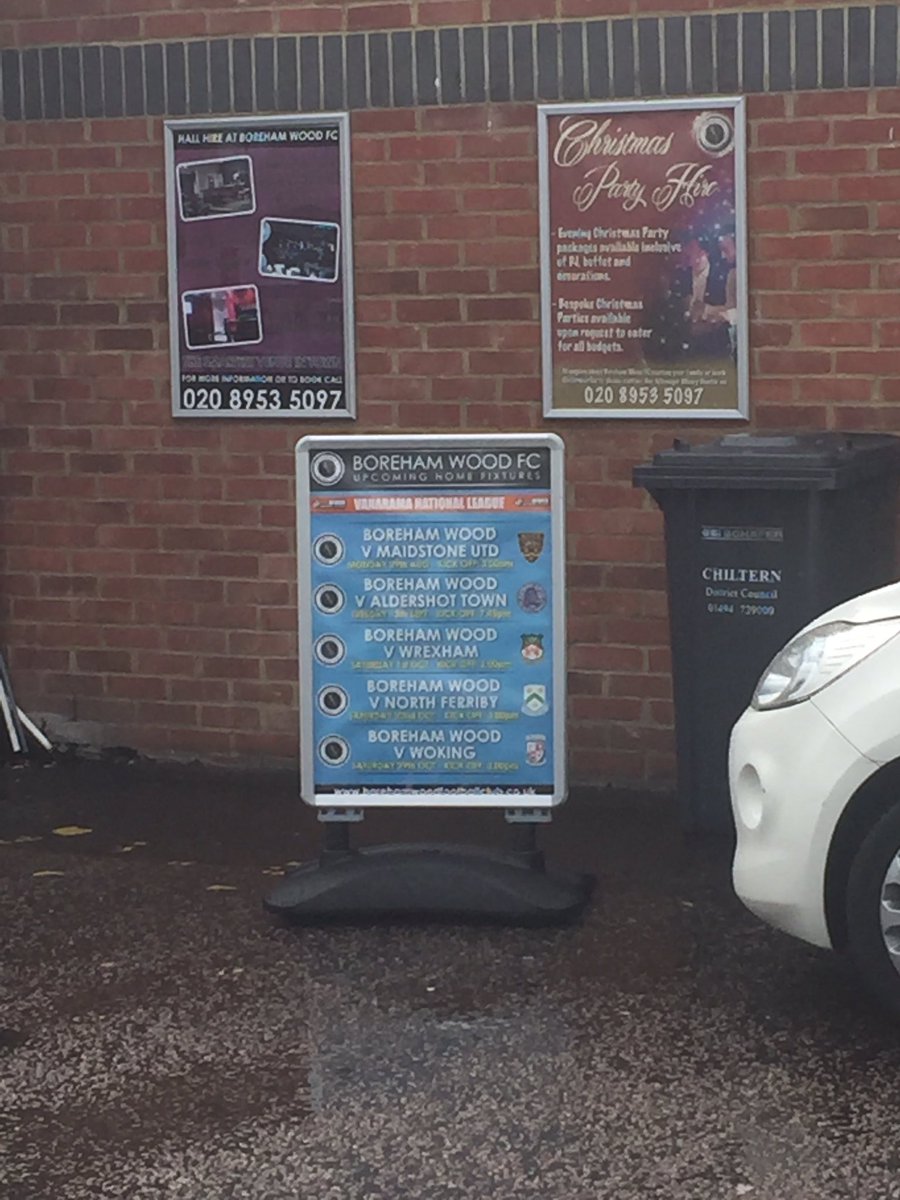 ---
Speaking as a disabled person, A frames are a nightmare, taking up a large chunk of pavement....but posters would be ok



---
I should think one near the MRS main turnstiles would be handy and not impede wheelchairs/prams etc. Useful for motorists passing to be reminded of upcoming games.



---
Sure....I was thinking more of the 'around town' part tbh



---
Originally Posted by Dragonwheels78:
Speaking as a disabled person, A frames are a nightmare, taking up a large chunk of pavement....but posters would be ok
yes
---
team sheet
---
Rooney in so that 'bust up' rumour perhaps knocked on the head.



---


Boreham Wood Vs Wrexham KO 3pm Vanarama National League Live Match Thread

Please help out your fellow RP'ers by being restrained on the use of 'refresh' during games! Lots of 'guests' view the RP match threads, so if that is you, please consider registering and joining in the RP fun!


Complaint? Please use the report post tools or contact RP to bring a post, user or thread to the attention of a site 'admin' or 'mod'.

Select Version: PC View | Mobile RP



SEO by vBSEO 3.3.0 ©2009, Crawlability, Inc.