Wrexham v Southport KO 3pm Vanarama National League Live Match Thread -

---
I hope everyone has had a good Christmas and are ready to watch us this Boxing Day fixture!
The beeb's preview reads: "
Wrexham will look to end a run of three successive National League defeats as they host struggling Southport on Boxing Day.
On-loan striker Gerry McDonagh could return for the Welsh club after illness, with Jordan White still out and Shaun Harrad short of goals.
Southport are without midfielder Liam Hynes after his recent red card.
Aaron Jones made his debut off the bench against Eastleigh and is now looking for a first start.
For those going post up the goal updates and comments from your mobile, and for those who cannot, there will be audio links nearer kick off while people listen in with their turkey hangovers!
COYR!
---
If we dont beat that opposition line up we need to have words....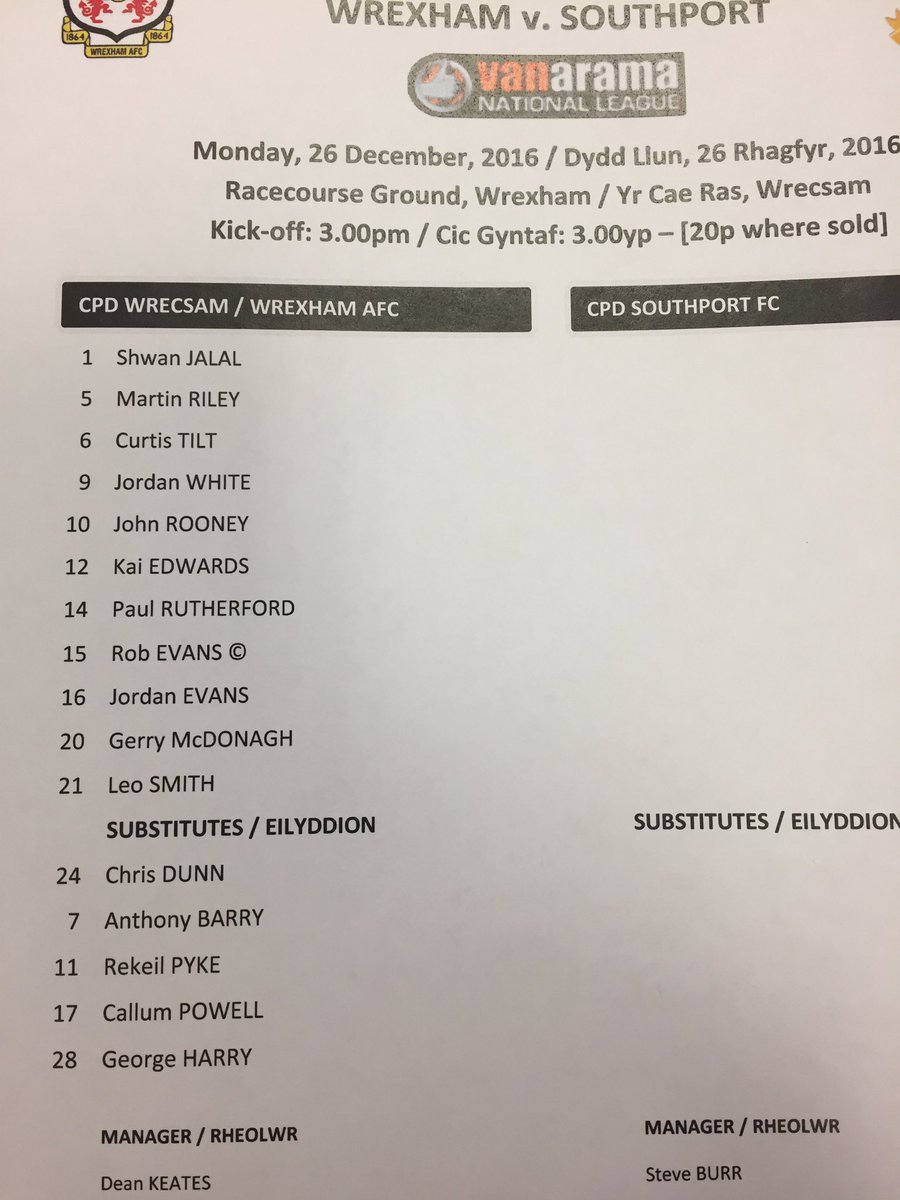 ---
bencherif injured?



---
No harrad. Hopefully on his way.
Posted via mobile theme



---
Carrington ?
Looks like the weakest looking Boxing Day team in our history.



---
cant see these guys squeezing out a point, but hope dies last.



---
agreed would be a weak line up for the reserves but we need to back them and keates today and then bring Pyke and Powell on to have a run at Ashton in the second half
Posted via mobile theme



---
Just turned back around after seeing that team



---
Why's everyone so worried? The team sheet shows Southport are playing no players! We'll win easily!



---
even with Southport fielding no players, with that team we will score an own goal and lose 0-1



---


Wrexham v Southport KO 3pm Vanarama National League Live Match Thread

Please help out your fellow RP'ers by being restrained on the use of 'refresh' during games! Lots of 'guests' view the RP match threads, so if that is you, please consider registering and joining in the RP fun!


Complaint? Please use the report post tools or contact RP to bring a post, user or thread to the attention of a site 'admin' or 'mod'.

Select Version: PC View | Mobile RP



SEO by vBSEO 3.3.0 ©2009, Crawlability, Inc.