Wrexham v Aldershot Town KO 3pm Vanarama National League Live Match Thread -

---
Lovely day for football again - still early days but its a top v bottom clash today.
There will be audio coverage via the Club and BBC Wales - Links for both the Club / BBC online audio usually appear a few minutes before kick off so check back then.
Please feel free to interact and give your views & opinions live in this match thread, or if you think something important has been missed please post - Please be respectful to fellow RP'ers in what you do post up and bear in mind this is a live thread....!
COYR !
---
Greetings from Bristol c'mon the Town you can do it .



---
Security alert at ground. Any information?



---
Originally Posted by draigwrecsam:
Security alert at ground. Any information?
Someone has put an Israel flag on Corbynís washing line.
---
Sleeping bag left behind tech end stand



---
Sorted now



---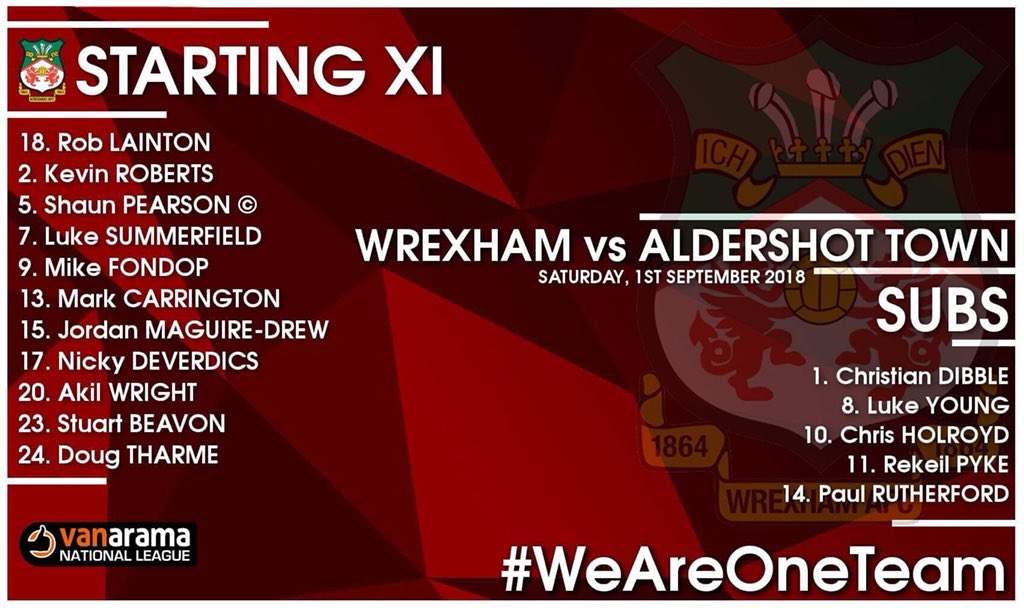 ---
Concerned about that back four



---
looks like 4-3-3 with either tharme CB Carra LB or Wright CB tharme LB then?



---
Not Deverdics.



---


Wrexham v Aldershot Town KO 3pm Vanarama National League Live Match Thread

Please help out your fellow RP'ers by being restrained on the use of 'refresh' during games! Lots of 'guests' view the RP match threads, so if that is you, please consider registering and joining in the RP fun!


Complaint? Please use the report post tools or contact RP to bring a post, user or thread to the attention of a site 'admin' or 'mod'.

Select Version: PC View | Mobile RP



SEO by vBSEO 3.3.0 ©2009, Crawlability, Inc.