Wrexham v Maidenhead United KO 7:45pm Vanarama National League Live Match Thread -

---
16th v 4th tonight as Maidenhead are flying high...
Club commentary is free on Mixr via
this link
. Links for the BBC online audio usually appear a few minutes before kick off so keep an eye out if listening.
This is a live match thread, so please help your fellow fan by posting updates & views. Not all can attend or even listen in. Please be respectful to fellow RP'ers in what you do post up!
COYR
---
Oh god, here we go again.



---
Pessimists are us!!



---
00:50 here, and I'm not sure I can stay awake until 01:45 for the start, or 03:30 for the final whistle. If I do, it'd better be worth it!



---
C'mon the Town never give up never surrender we are Wrexham strong and proud,and FECK the whingeing non believing frothing key board warrior tossers.



---
Dibble keeps his place - Lainton has had an injection that laid him up for seven days. Carrington in for Barnum-Bobb. Oswell up front with Tollett and Grant. Akil and the two Lukeís in midfield.



---
team out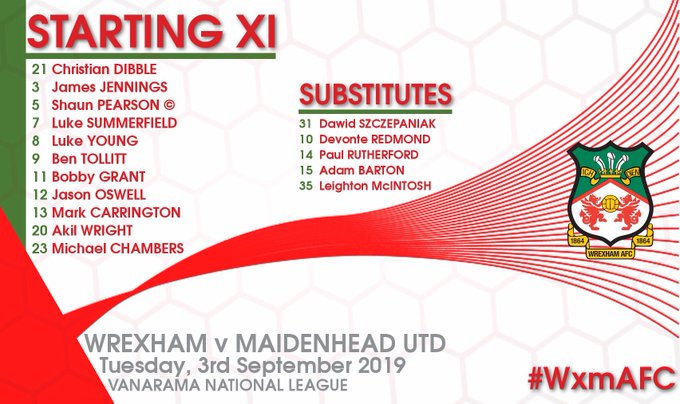 ---
At least Barnumís Circus has been taken out.

I will need to take some tablets if I have to watch Oswell again.



---
Barnum bobbs been bounced



---
Solid selection but Harris will be missed.



---


Wrexham v Maidenhead United KO 7:45pm Vanarama National League Live Match Thread

Please help out your fellow RP'ers by being restrained on the use of 'refresh' during games! Lots of 'guests' view the RP match threads, so if that is you, please consider registering and joining in the RP fun!


Complaint? Please use the report post tools or contact RP to bring a post, user or thread to the attention of a site 'admin' or 'mod'.

Select Version: PC View | Mobile RP



SEO by vBSEO 3.3.0 ©2009, Crawlability, Inc.