Torquay United v Wrexham KO 7:45pm Vanarama National League Live Match Thread -

---
This game will KO at 02:45 my time here. Am I going to stay awake to read any comments about action? Nope. The result is probably a foregone conclusion, and spending half the night in misery is more than I need thanks. Good luck anyway Wrexham.



---
All aboard the promotion express



---
Originally Posted by louisleftboot:
All aboard the promotion express
Thats the spirit.
---
Rutherford. Yaaaaaaay. Summerfield yaaaaaaay. Wright yaaaaaaay



---
The above in picture form from the official twitter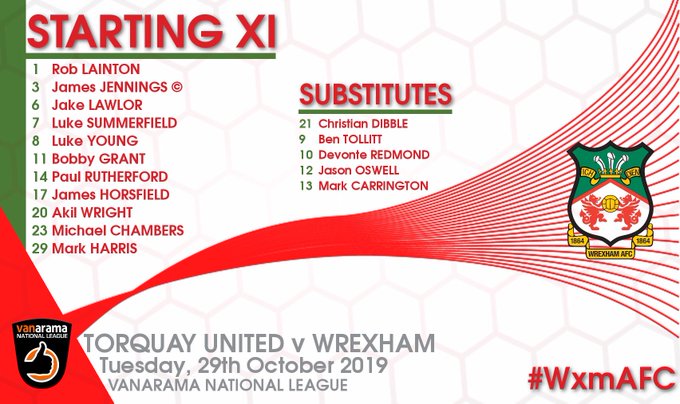 ---
Wrexham
1Lainton
3Jennings
6Lawlor
14Rutherford
8Young
7Summerfield
11Grant
17Horsfield
20Wright
23Chambers
29M Harris
Substitutes
9Tollitt
10Redmond
12Oswell
13Carrington
21Dibble
Referee:
Savvas Yianni



---
shocking team



---
Lainton
Horsfield Lawlor Chambers Jennings

Young Summerfield Wright

Rutherford

Grant Harris



---
I know itís the same old problem, but where are the goals coming from?



---
Keates needs a result soon because his impact so far is zero.



---


Torquay United v Wrexham KO 7:45pm Vanarama National League Live Match Thread

Please help out your fellow RP'ers by being restrained on the use of 'refresh' during games! Lots of 'guests' view the RP match threads, so if that is you, please consider registering and joining in the RP fun!


Complaint? Please use the report post tools or contact RP to bring a post, user or thread to the attention of a site 'admin' or 'mod'.

Select Version: PC View | Mobile RP



SEO by vBSEO 3.3.0 ©2009, Crawlability, Inc.