Wrexham v Bromley KO 3pm Vanarama National League Live Match Thread -

---
Top of the table Bromley (unbeaten in their last three games) at the Racecourse today with us still lurking 22nd in the relegation zone.
Club commentary is free on Mixr via
this link
. Links for the BBC online audio usually appear a few minutes before kick off so keep an eye out if listening.
This is a live match thread, so please help your fellow fan by posting updates & views. Not all can attend or even listen in.
Please be respectful to fellow RP'ers in what you do post up!
COYR
---
Rutherford 7 tried hard
Akil Wright 6 offered a physical presence
Chambers 4 Bambi on ice.



---
Make or break day, this is our FA Cup final. Today we'll see if the players turn up and give 100% to save the club from relegation.



---
Such an optimist you are Percy



---
come on boys lets kick start this season, 6/4 with bet365 £30 on stealing money COYR



---
Pearson back! Tollitt for Harris.

433?



---
official twitter line up graphic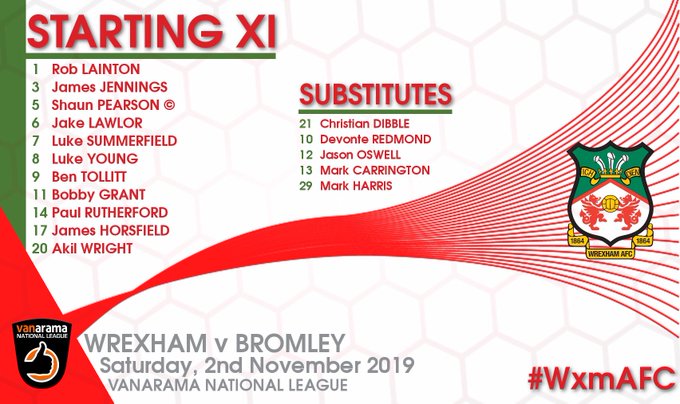 ---
Pearson back is good. Tollitt is in potentially good. Rutherford though...

Hopefully part of a midfield 4 and not upfront.



---
Great new Rutherford still in starting 11, hopefully he'll be back in the goals.



---
No strikers in the starting 11



---


Wrexham v Bromley KO 3pm Vanarama National League Live Match Thread

Please help out your fellow RP'ers by being restrained on the use of 'refresh' during games! Lots of 'guests' view the RP match threads, so if that is you, please consider registering and joining in the RP fun!


Complaint? Please use the report post tools or contact RP to bring a post, user or thread to the attention of a site 'admin' or 'mod'.

Select Version: PC View | Mobile RP



SEO by vBSEO 3.3.0 ©2009, Crawlability, Inc.