Rochdale v Wrexham FA Cup First Round REPLAY KO 7:45pm Live Match Thread -

---
Up for the cup at Spotland tonight... could be a huge turning point in fortunes if we grab the win!
Club commentary is free on Mixr via
this link
. Links for the BBC online audio usually appear a few minutes before kick off so keep an eye out if listening.
This is a live match thread, so please help your fellow fan by posting updates & views. Not all can attend or even listen in. Please be respectful to fellow RP'ers in what you do post up!
COYR
---
Presume the odd Wales update will be occurring on here too, a double win would be lovely
---
That bench...!



---
Team via official twitter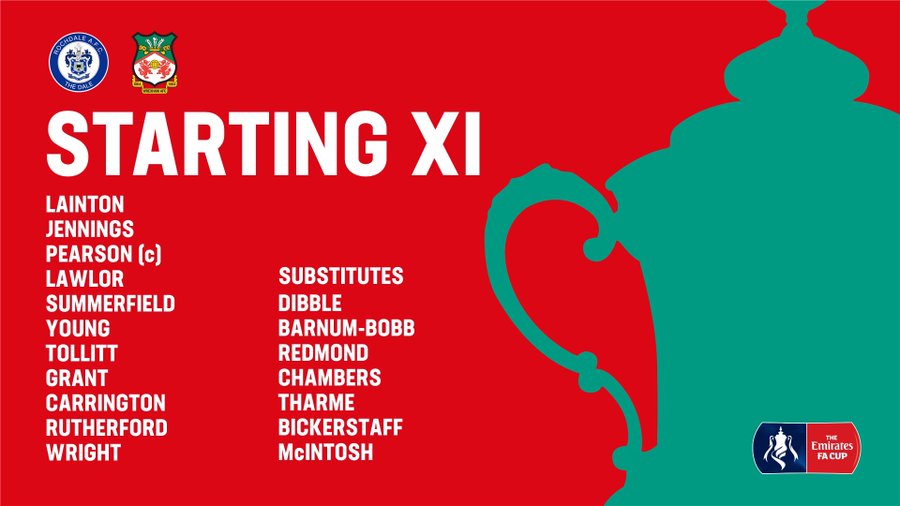 ---
My word our squad is shit



---
Hooper? Barton?



---
Not one summer signing in the starting eleven....

I see this as progress.

I predict 2 nil Rochdale.



---
Cold night at Spot land and cup shock with a 1 -0 win for the town. FA Cup financial saviour!



---
3 defenders on the bench!? Not much there to change a game!



---
Hooper waste of probably one of our biggest wages. Shift him on.



---


Rochdale v Wrexham FA Cup First Round REPLAY KO 7:45pm Live Match Thread

Please help out your fellow RP'ers by being restrained on the use of 'refresh' during games! Lots of 'guests' view the RP match threads, so if that is you, please consider registering and joining in the RP fun!


Complaint? Please use the report post tools or contact RP to bring a post, user or thread to the attention of a site 'admin' or 'mod'.

Select Version: PC View | Mobile RP



SEO by vBSEO 3.3.0 ©2009, Crawlability, Inc.