Wrexham v Woking KO 3pm Vanarama National League Live Match Thread -

---
Back in action today after a break. 20th v 9th, but we could see a few new faces help out with the relegation battle. Woking have a new striker in on loan too.
Club commentary is free on Mixr via
this link
. Links for the BBC online audio usually appear a few minutes before kick off so keep an eye out if listening.
This is a live match thread, so please help your fellow fan by posting updates & views. Not all can attend or even listen in.
Please be respectful to fellow RP'ers in what you do post up!
COYR
---
Jarvis starts.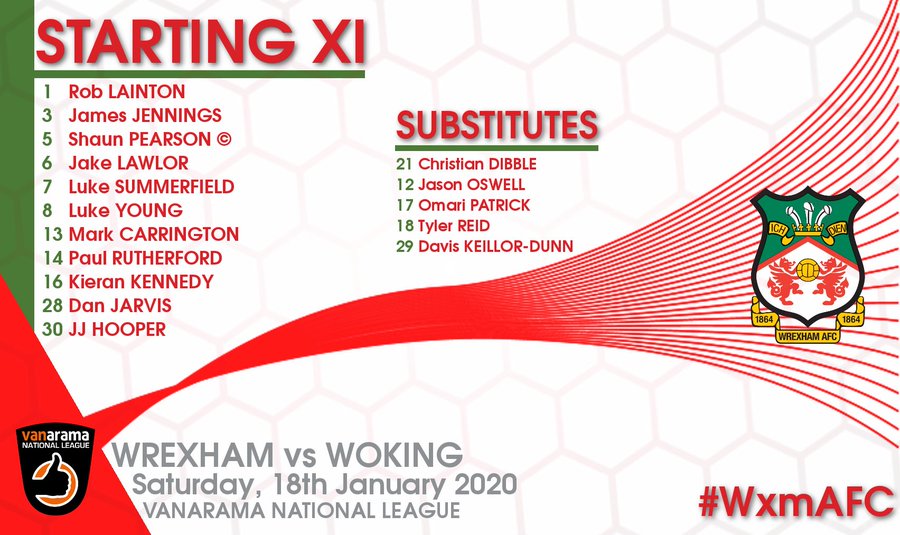 ---
Fair play. Thatís the team I would have picked . He has maximised those who are going to put effort in .



---
Plenty will be happy that Grant isn't playing. Surprised Summerfield walks back in though



---
That looks like a team set up not to lose. 2 attacking players in the 11 (Rutherford being more of a defensive winger).



---
Originally Posted by basdragon:
PLenty will be happy that Grant isn't playing
So much for the itk posters saying that Grant has to start every game!
---
Grant dropped. OMG



---
Grant not in the squad. Patrick on the bench when Rutherford starts is arse backwards to me.



---
Delighted to see no Grant. Patrick on bench is a shame. Would've played the other new lad over Summerfield could hardly be worse.



---
541 with Jarvis and Rutherford behind Hooper?



---


Wrexham v Woking KO 3pm Vanarama National League Live Match Thread

Please help out your fellow RP'ers by being restrained on the use of 'refresh' during games! Lots of 'guests' view the RP match threads, so if that is you, please consider registering and joining in the RP fun!


Complaint? Please use the report post tools or contact RP to bring a post, user or thread to the attention of a site 'admin' or 'mod'.

Select Version: PC View | Mobile RP



SEO by vBSEO 3.3.0 ©2009, Crawlability, Inc.