Hartlepool v Wrexham KO 7pm Vanarama National League behind closed doors Live Match Thread -

---
The first fixture since we have elected to allow Mr Reynolds and Mr McElhenney to become the new custodians of the club, so the future starts here.
There is a stream on pay per view from Hartlepool, with free audio via Mixlr.
As usual, this is a live match thread, so please help your fellow fan by posting updates & views. Not all can view or listen in.
Please be respectful to fellow RP'ers in what you do post up! COYR
---
---
Team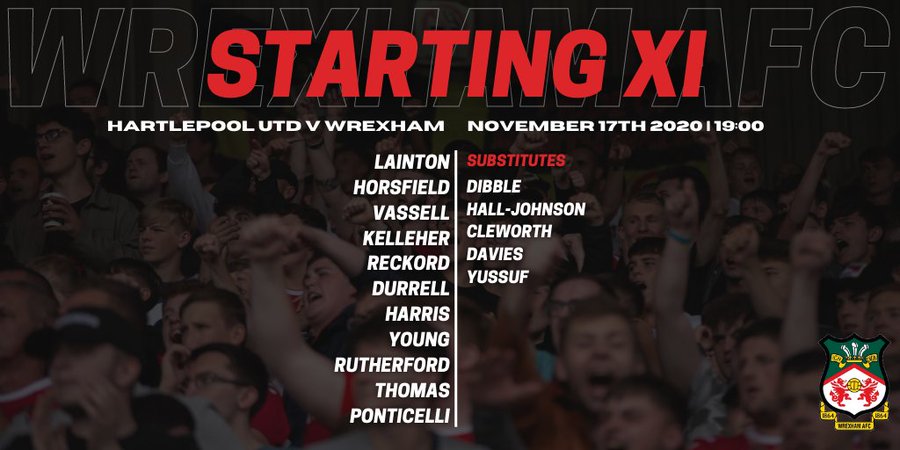 ---
Bored - no news today - boo.



---
Good news with Rutherford back.....



---
another keates side that lacks any creativity



---
442?



---
How is thomas starting ahead of yussuf



---
How is Rutherford starting with Jordan Davies on the bench? Where is Jarvis? Keates needs to go!



---
Evening all. Brass monkey weather here. This is where we I expect we get brought back to earth. I hope I'm wrong



---


Hartlepool v Wrexham KO 7pm Vanarama National League behind closed doors Live Match Thread

Please help out your fellow RP'ers by being restrained on the use of 'refresh' during games! Lots of 'guests' view the RP match threads, so if that is you, please consider registering and joining in the RP fun!


Complaint? Please use the report post tools or contact RP to bring a post, user or thread to the attention of a site 'admin' or 'mod'.

Select Version: PC View | Mobile RP



SEO by vBSEO 3.3.0 ©2009, Crawlability, Inc.