Wrexham v Woking KO 7pm Vanarama National League (behind closed doors) Live Match Thread -

---
Dibble
French
Carrington
Kelleher
RHJ
Davies
Jarvis
Young
Reckord
Thomas
Angus
Subs
Horsfield
Durrell
Redmond
Rutherford
Ponticelli
---
Still no Vassell, Pearson, Lainton. Anyone know how they are progressing?

That does look our best lineup, although possibly a bit lightweight in CM, might have been tempted with Horsefield in a holding role. But great to see the younger players starting.



---
The most attacking midfield we've had all season.

Interesting how Davies and Jarvis play together. Hopefully be able to control the game



---
A week on from the takeover...!
Team tonight: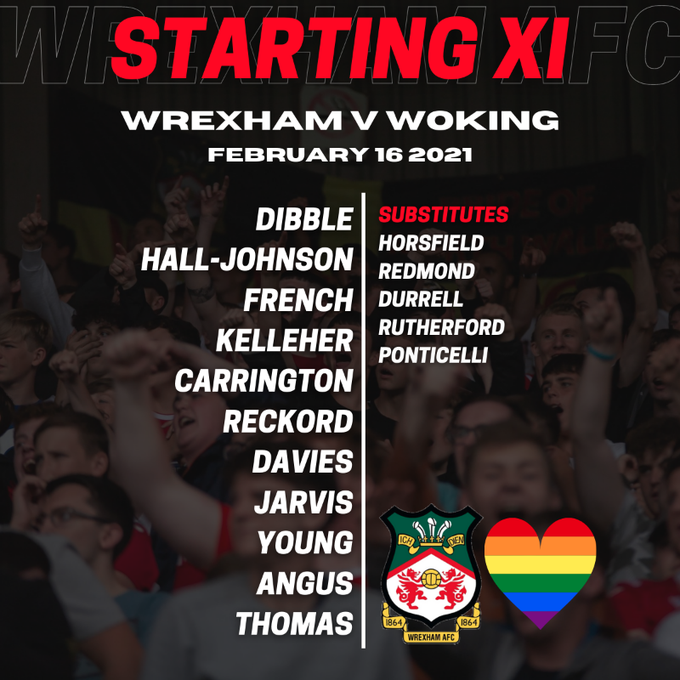 There is a stream on pay per view as is now common, with free audio via Mixlr.
PPV Stream:
https://page.inplayer.com/wrexhamafc/
Mixlr Free audio:
https://mixlr.com/wrexham_afc
As usual, this is a live match thread, so please help your fellow fan by posting updates & views. Not all can view or listen in.
Please be respectful to fellow RP'ers in what you do post up! COYR
---
Will move this to the LMT



---
Good attacking side. Looking forward to seeing Davies and Jarvis together, but Young will have to be physical to make up for the lack of physicality.



---
What's the point of having the announcer there? Who's he announcing things to as I can barely understand on the live stream



---
Harris suspended?



---
Originally Posted by 138+NotOut:
Harris suspended?
I didn't think he'd reached 10
---
anyone got the stream on now, does the sound appear off and a bit jumpy



---


Wrexham v Woking KO 7pm Vanarama National League (behind closed doors) Live Match Thread

Please help out your fellow RP'ers by being restrained on the use of 'refresh' during games! Lots of 'guests' view the RP match threads, so if that is you, please consider registering and joining in the RP fun!


Complaint? Please use the report post tools or contact RP to bring a post, user or thread to the attention of a site 'admin' or 'mod'.

Select Version: PC View | Mobile RP



SEO by vBSEO 3.3.0 ©2009, Crawlability, Inc.